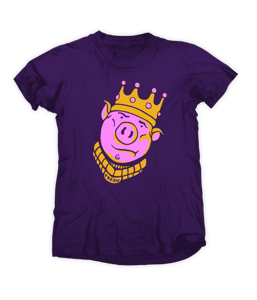 $

19.99
If you don't know, now you know!
This is the Notorious P.I.G. , also known as Piggie Smalls.
Born and raised on the farms, Smalls knew he destined for greatness.
One day he would rise and be a star.
One day he would have all the sows chasing after him.
Now, Smalls is one of the greatest rappers in the game....
and he smells like bacon.
He truly is the greatest.
"Piggie Smalls" is printed on a Purple 100% Combed Ringspun Cotton tee. It is a super-soft, lightweight, slim-fit tee.
*Concept inspired by Johnpatrick Reavey.